---
Let me Introduce you a list of Best Angular Admin Dashboard Templates (/Themes). You are a MEAN Stack Developer and want to build a Great product with functionalities being your primary objective, You need a Great looking Responsive Angular template for that. Isn't it ?
I've researched and bought plenty of Angular Templates from Themeforest, Outside Themeforest. To our surprise nothing was actually Great in terms of Code Structure.
Everyone advertised their Angular templates as latest version, Quality Code etc, But to be frank all they did was instead of writing Typescript they wrote all those functionalities in the dashboard such as Navigation Bar toggle in jQuery.
Here are few themes to name a Few Adminca, Apex, Material Dashboard by Creative Tim, I was impressed with Creative Tim's Material Pro Angular Dashboard's UI, But … The Codebase isn't Good and it's written in a very complicated way, Not developer friendly. So, I avoided it!
After enough struggle we finally found Best Angular Admin Templates by considering these features:

Code Quality.
Great UI.
Responsive Theme.
All Components.
We came across something called WrapPixel Themes, We felt even these guys would be doing the same such as writing jQuery for everything. We thought of giving it a try and bought Xtreme Admin Angular Template.
We have curate a list of themes based on the above features, they are:
What's Great about WrapPixel's Themes ?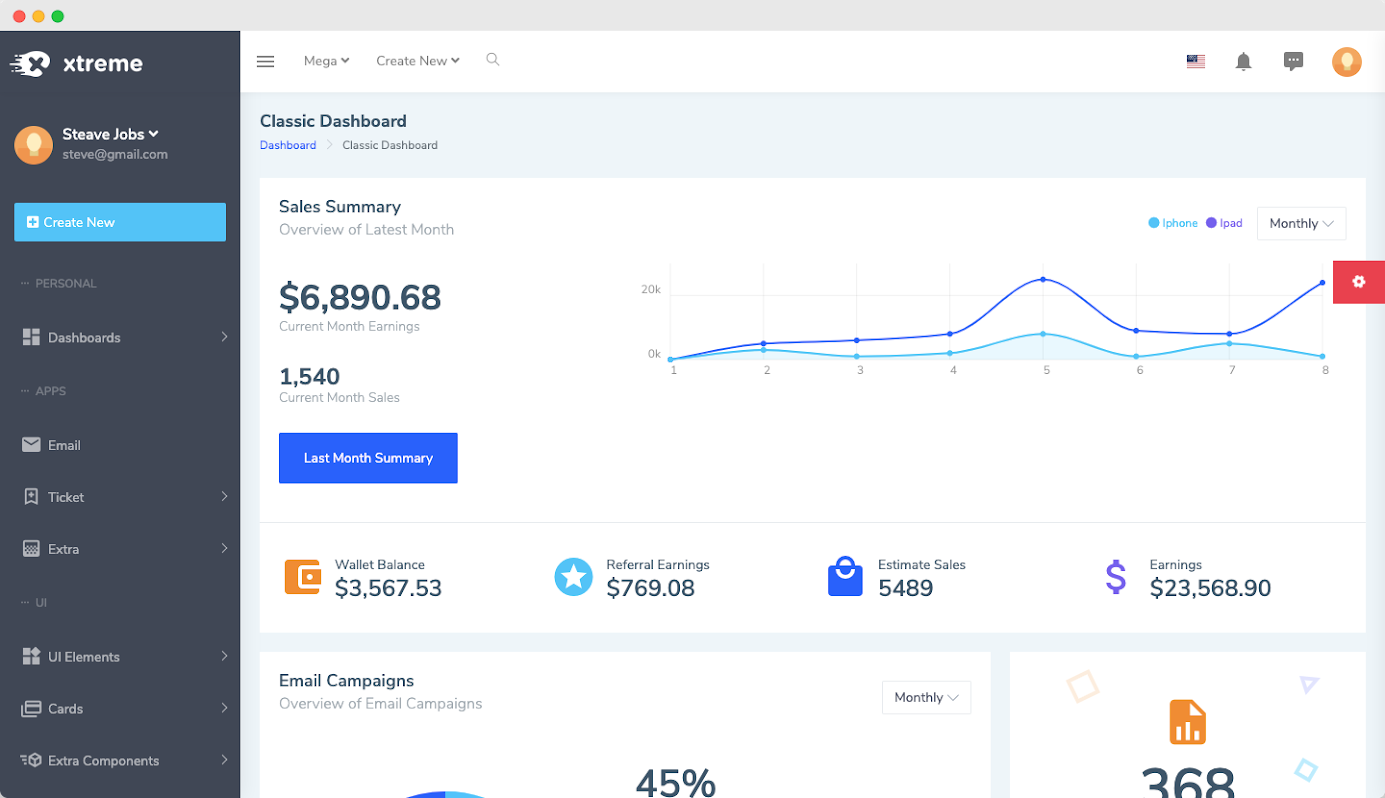 Features
Lazy Loading
The Codebase is so Good that it comes with one of the features we love such as Lazy Loading.
Modular Components
All the components are Cleanly Organized and Properly divided and they are used with selectors instead of making the HTML look clumsy.
Instead of we putting lot of work after purchasing the theme, Those guys at WrapPixel did that.
Dynamic Route Filtering
Instead of embedding all the routes in the HTML, There's a separate class from where we can import array of objects (routes). The HTML is dynamically build looping through all of them.
UI Elements
It comes with all the UI Elements such as Data-tables, inputs, forms, cards etc. You can checkout full list of components here.
Dark Mode
Who doesn't love a dark mode ? Well this theme provides a native dark mode as well as complete customisable Navigation bar, Header, Sidebar to any color of your wish, TaDa!
Sample Pages
It comes with the following pre-built ready made sample pages, with on slight modification can be used. Which reduces lot of work. Life Saver!
Here are the list of pre-built pages:
E-Commerce – Products / Cart / Edit Products / Product Details / Orders / Checkout.
Landing Pages.
Authentication – Login / Signup ( 2 Each )
Timeline
Profile
Pricing
Invoice
Other Dashboard pages.
Custom Pre Made Apps
It has the following pre-made app templates
Chat App
Support Ticket Management
Calendar
Taskboard
Mailbox
Other Benefits
Learning Curve for Beginners
This angular admin dashboard template is a Great learning curve for beginners.
If you are a beginner in Angular you'll get a Great learning curve from this codebase. However, If you are already Good at Angular, You can easily extend it to fit your needs.
Developers love it If the code is clean with Best Practises.
Responsive UI
Who the hell likes an ugly looking UI in different devices. ? No need to worry, These Angular Template / Templates from WrapPixel are Responsive.
Life Long Updates ( Continuous Angular Upgrades )
Once you purchase the theme, It's yours a lifetime. I talked with WrapPixel Team, They promised to update the themes as well as push new Angular Features to those Angular Templates.
Missing Features – A Programmer's Wishlist
However there are few features missing in those theme's which are not majorly used by many, But still there are people who need them.
It missed those Few Angular Features, Such as:
PWA 😍
Virtual Scroll 😊
Angular Elements ❤️
Angular Element's is really a must have feature. However no Angular Template is Providing those, But still as these are advertised as Angular 7 just not the version, It's Good to have these features as well.
PWA comes next, As PWA's are becoming popular and a hot topic now, It's recommended to have this feature in that theme.
Virtual Scroll comes last which am not really looking for, But is Good to have. Some other might need it.
A Talk with WrapPixel's Dev Team
However I talked with the Development team at WrapPixel, They assured that they'll bring up these features in the next Major release. Cheers 🎉
Summary
Overall, This is a Recommended Best Angular dashboard admin template for your next product. 😉
Everyone loves and appraises a Great product. I don't like to write much of Product reviews until unless I love it very much. This is one such Angular Template which made write a review.
You can purchase it from here
If you have any query regarding these Angular Templates, You can comment here.