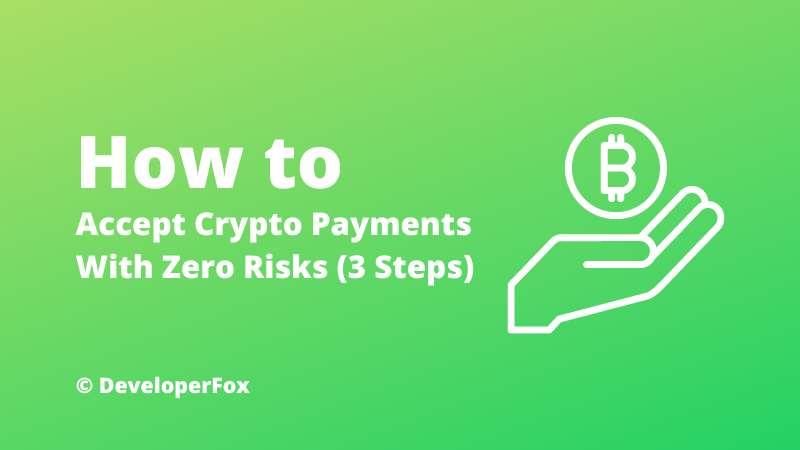 Cryptocurrency is very popular these days, and prices are subject to swings practically every day. Global cryptocurrency adoption grew by approximately 880% in June 2021 compared to the previous year. According to research from Skynova, 32% of U.S. businesses now accept crypto. So, learning how to accept crypto payments is a crucial skill for every business owner.
This post is for business owners and entrepreneurs curious about using cryptocurrencies for customer payments. It includes a step-to-step guide on accepting crypto payments, finding a payments partner, answering integration-related queries, and the benefits of crypto payments.
Should Businesses Accept Cryptocurrency as a Payment Method?
Cryptocurrency is a digital currency that enables direct transactions without third-party processors. If you want to maintain your company at the forefront of technology, taking cryptocurrencies in your online store pays off.
Since cryptocurrency payment processors like BitPay can shield your company from price movements, financial loss caused by changes in coin value can be avoided.
However, accepting crypto payments on your website can be scary if you are unfamiliar with how it operates. That's why we created a step-to-step guide on accepting Bitcoin and other crypto payments for your products or services.
How to Accept Crypto Payments
If you decide to accept cryptocurrencies, you must do a few steps. Generally, the procedure is comparable to signing up with a credit card processing company.
1. Understand What You Need
I. A Wallet
You need a "wallet" to hold cryptocurrency. This wallet should specifically be tailored for cryptocurrency.
You can purchase, trade, and store various cryptocurrencies in your crypto wallet. You receive a special private key that helps keep your money secure and available. It also connects to other apps to facilitate smooth transactions.
When someone buys something from your website using cryptocurrency, the funds will eventually appear in your wallet, where you may then exchange them for any other currency.
II. Platforms and Integrations
The platform hosting your website will significantly impact your integration of cryptocurrency payments. There are various plugins available for popular platforms like Shopify, WooCommerce, WordPress, and Magenta.
Most payment solutions that accept Bitcoin offer other features, such as payment buttons, custom integration, and invoicing. While individual websites will need different solutions, the plugins work very well for most websites.
2. Setting Up a Cryptocurrency Wallet or Crypto Gateway
You need a crypto wallet to accumulate, hold, and use bitcoin for your business or individually. You will require a crypto payment gateway if you wish to take cryptocurrency payments but convert them to conventional fiat money.
There are three primary types of crypto wallets you can use;
I. Hosted Wallet
When using a hosted wallet, your cryptocurrency assets are safeguarded and kept by a third-party "host." Most hosted wallets restrict your actions to merely purchasing, storing, trading, and selling cryptocurrency.
II. Self-Custody Wallet
These wallets give you the tools you need to keep your cryptocurrency assets, but it is up to you to ensure their security and protection. You have more options than with hosted wallets since you can also stake, lend, and borrow.
III. Hardware Wallets
Hardware wallets are physical devices. So, you must buy the device and plug it into your computer to buy, sell, trade, lend, borrow, etc. It is the most secure approach, but this necessitates keeping track and storing safely.
On the other hand, crypto payment gateways work similarly to crypto wallets but offer additional features.
They often include a hosted or non-custodial wallet that holds funds from cryptocurrency purchases made by customers until you decide to convert those funds into fiat money and send them to your bank account. Some popular crypto payment gateways include BitPay, Coinbase Commerce, etc.
3. Integrate Crypto Payments on Your Website
After establishing a cryptocurrency wallet and gateway, the next step is integrating cryptocurrency into the website's checkout.
There are two required methods you can use to accomplish this:
Open Source API- If you use a cryptocurrency platform with an open source API, you can be able to integrate it with your website using custom HTML code. Although it necessitates technical resources that not every small business can access, the benefit is that you have more control over the feel, appearance, and functionality.
App or Plugin- You can find an integration for your website, but this will depend on your eCommerce platform. Crypto integrations simplify the setup process by handling all the technical details for you.
Keep reading to learn about some popular cryptocurrency payment platforms with API and plugin integration.
Best Crypto Payments Platforms
1. BitPay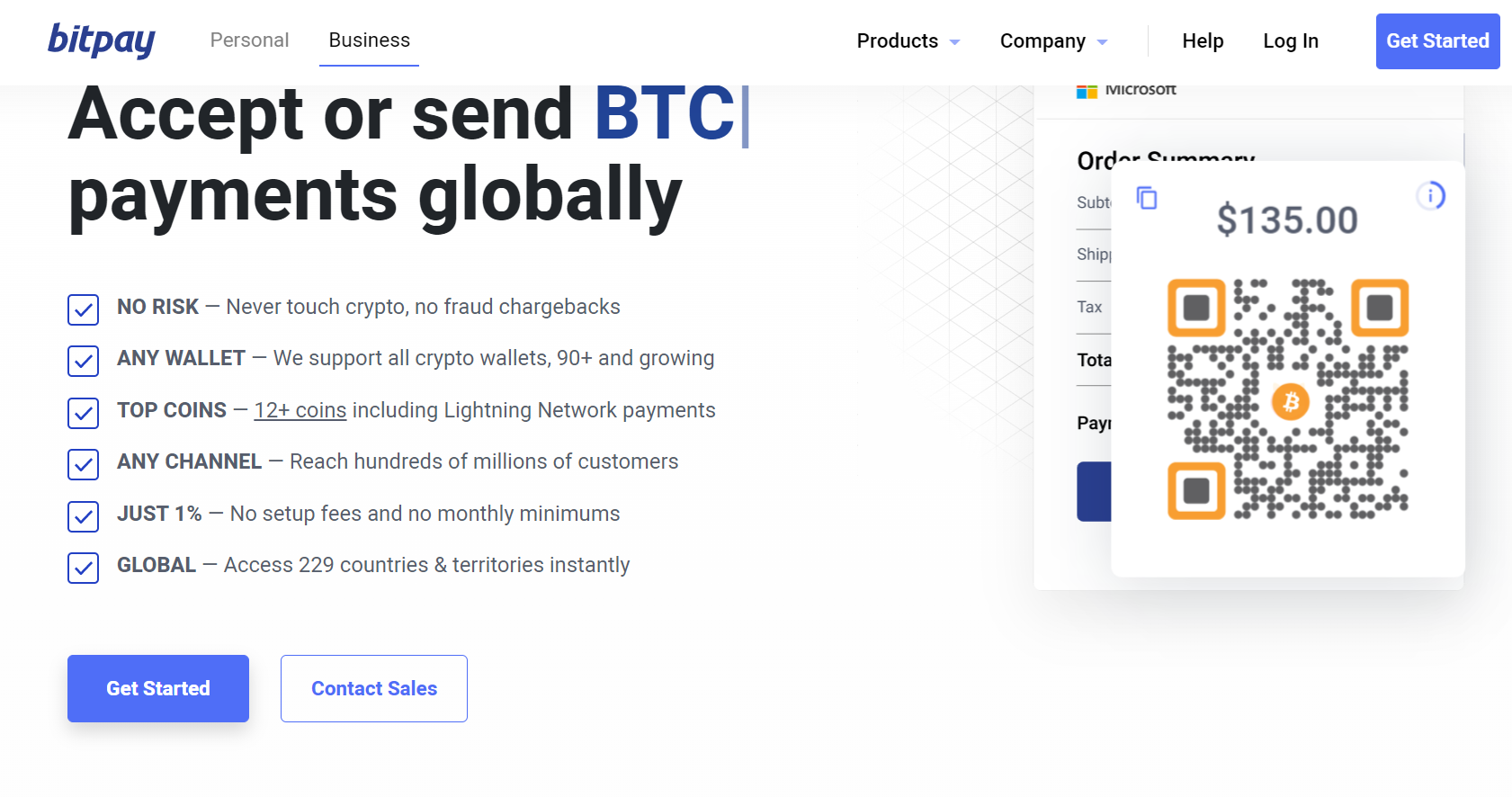 The Atlanta-based BitPay is among the big companies that allow businesses to accept cryptocurrency as payment. The company provides several solutions, including hosted checkout, payment buttons, invoicing, Quickbooks, and Shopify connections.
Customers can make crypto payments online, by email, or in person. Businesses are protected from swings in cryptocurrency. The company allows customers to pay up in local currency cryptocurrencies and only levies a 1% transaction fee on nearly all transactions.
2. Coingate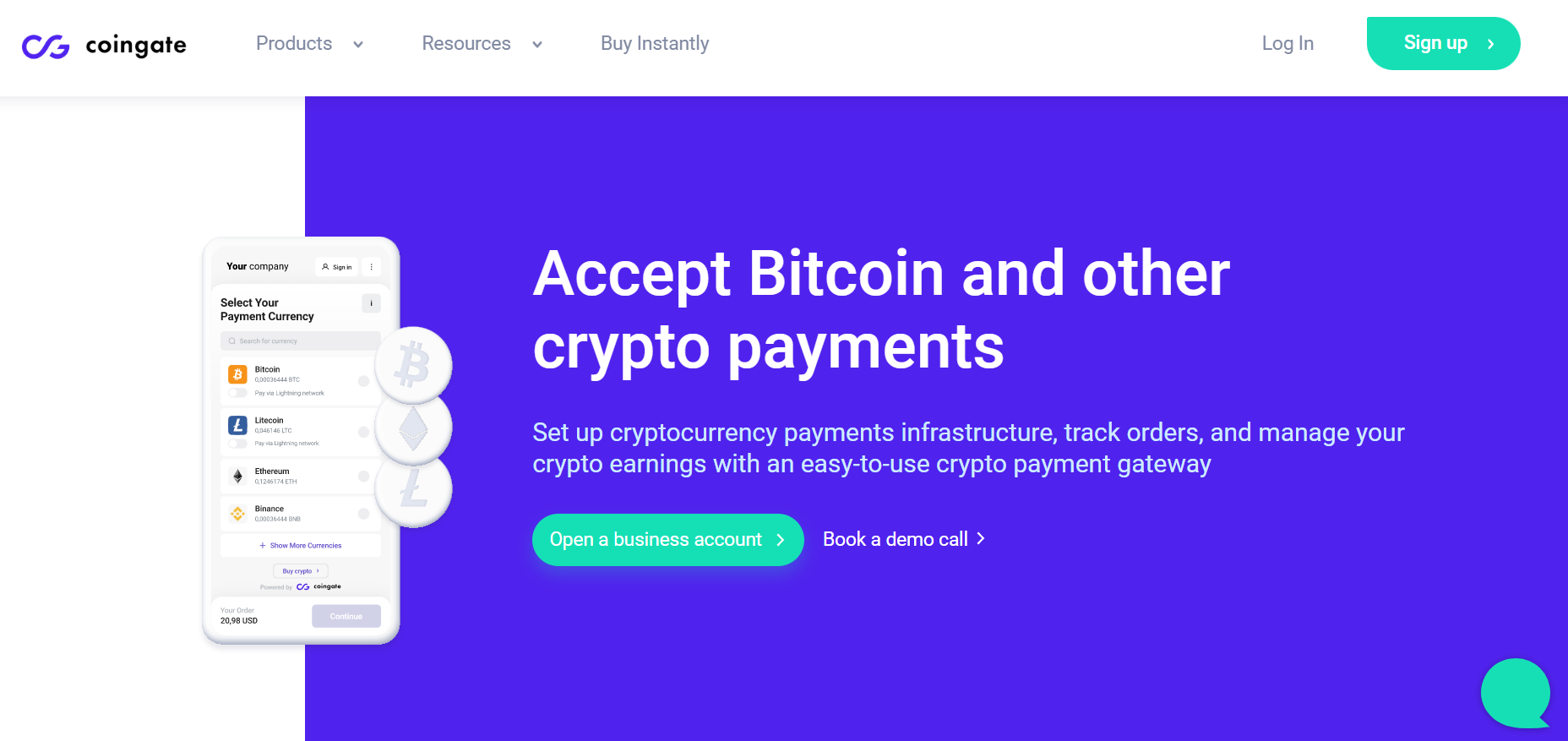 With its presence in over 100 countries and support for over 50 local currencies, Coingate is a powerful alternative. It supports crypto and fiat currency as well as API.
There is no setup fee, and it only requires a 1% processing fee. It works with over 70 cryptocurrencies, including Ripple, Litecoin, Ethereum, and Bitcoin.
3. Coinbase Commerce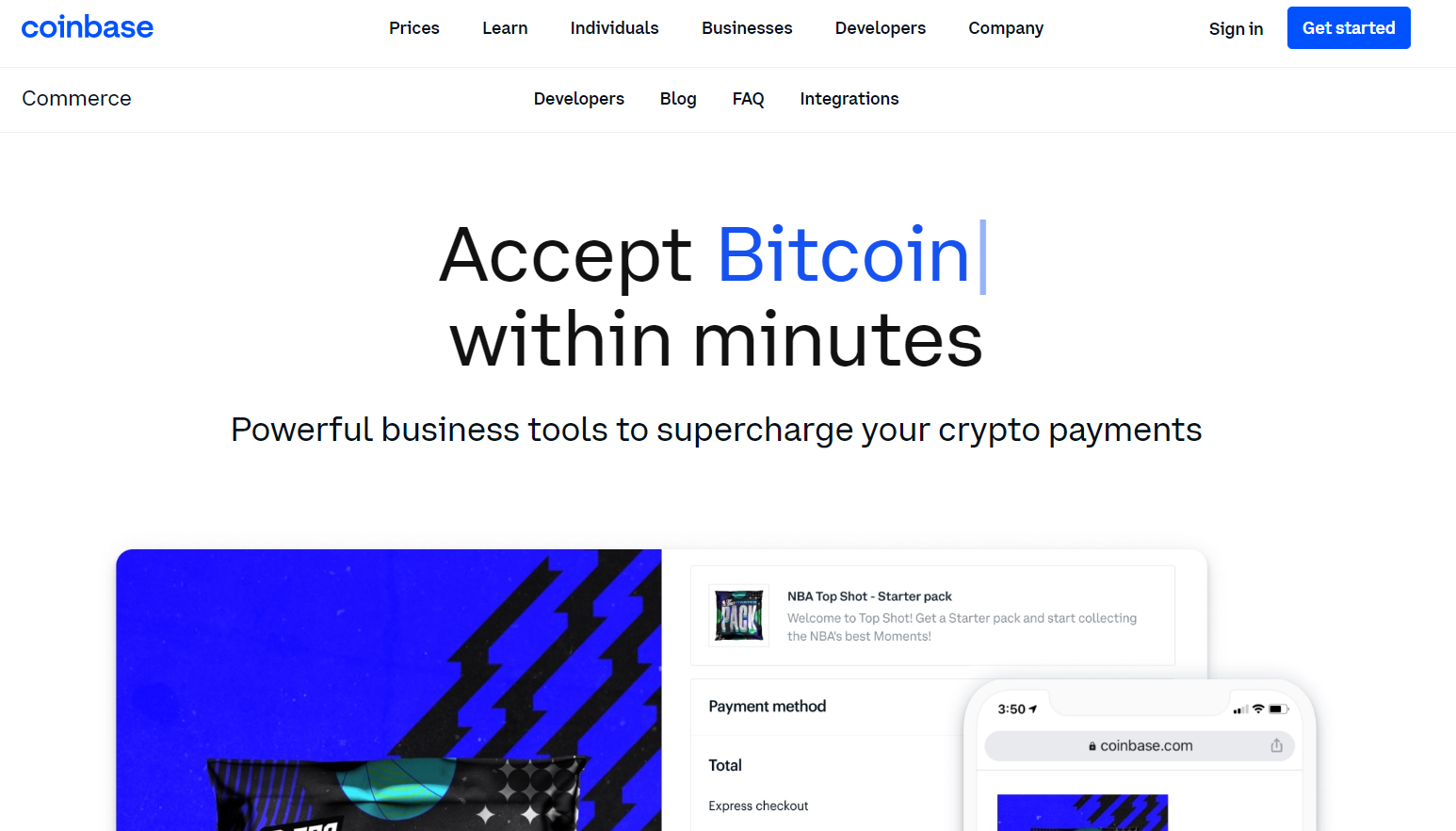 CoinBase is perhaps one of the leading platforms for buying and selling Bitcoin and other cryptocurrencies. However, it also comes with a Commerce product that makes it simpler for businesses to accept digital payments.
The company provides a wide range of features, including hosted checkout pages, payment buttons, invoicing, and e-commerce integrations like Shopify and WooCommerce. CoinBase Commerce encourages businesses to "be your own bank" and offers granular asset control.
4. NowPayments
NowPayments is a widely used, low-cost, and simple-to-use processing alternative. You can accept more than 100 cryptocurrencies and easily convert them into the currency of your choice.
NowPayments offers some great plugins, has an exceptional point of sale system, and has decent connectivity with the main e-commerce platforms. It is extremely cost-effective, with a maximum fee of 1%.
5. CoinPayments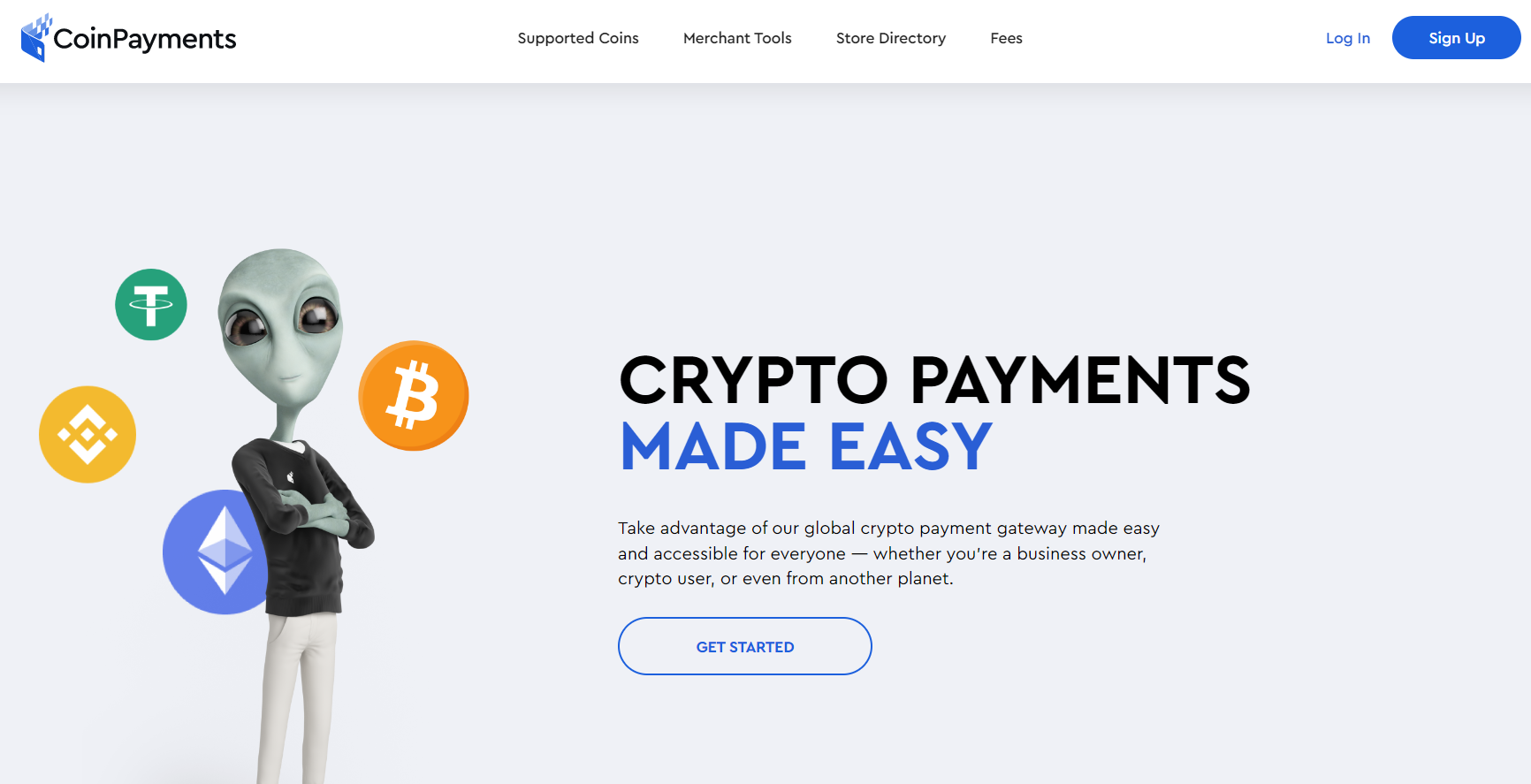 Since 2013, businesses all across the world have benefited from CoinPayments, one of the oldest systems for bitcoin payments. CoinPayments is a payment processor for in-person transactions and online platforms and supports a wide range of cryptocurrencies.
The company's plugins are compatible with almost all the main e-commerce platforms, including WooCommerce, Magento, Shopify, and OpenCart. Additionally, it gives excellent value for your money online with a processing fee of just 0.5%.
6. OpenNode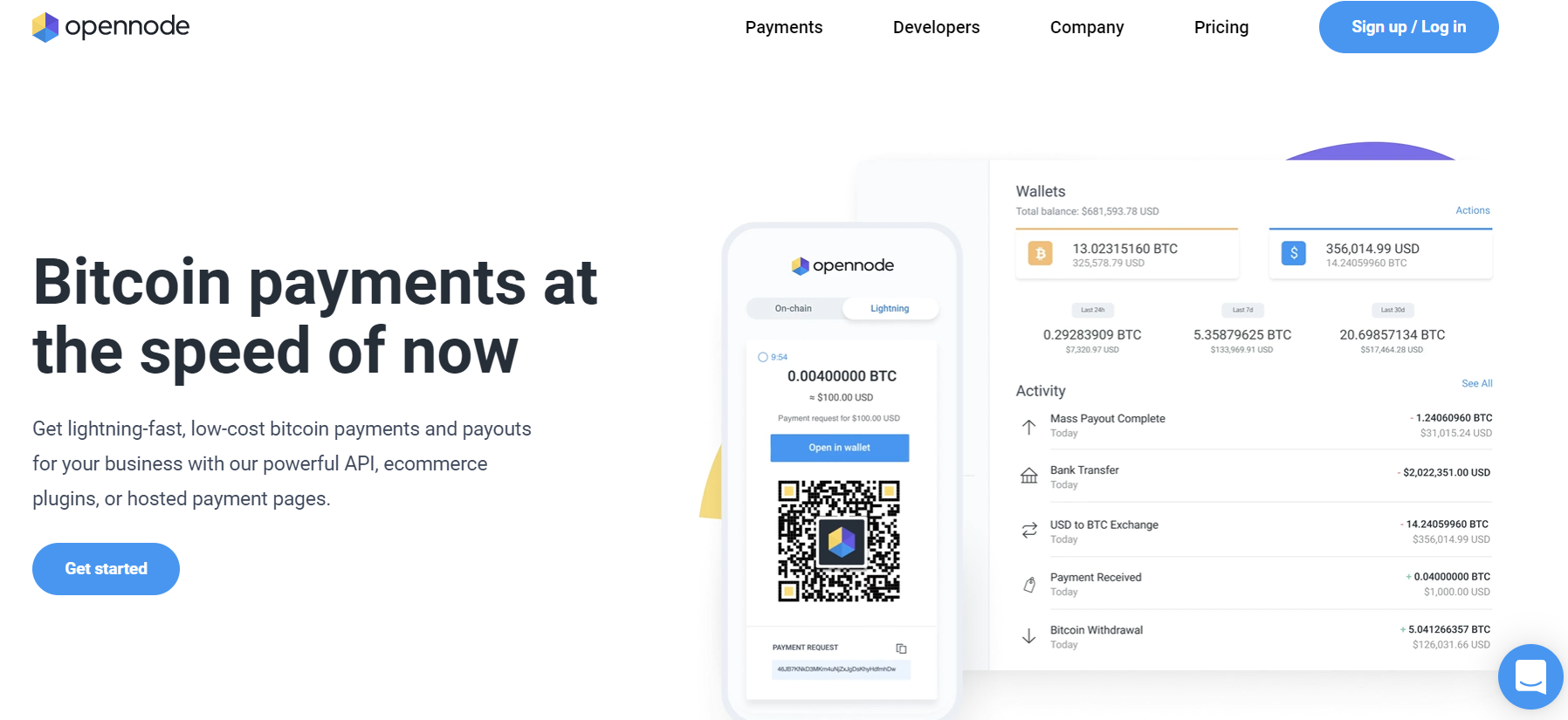 With apps and integrations tailored to particular e-commerce platforms, OpenNode offers a hosted crypto checkout through an open API.
You can integrate OpenNode into the purchasing process with features like buy now buttons and email bills to your clients. However, it is only limited to accepting Bitcoin payments.
7. TripleA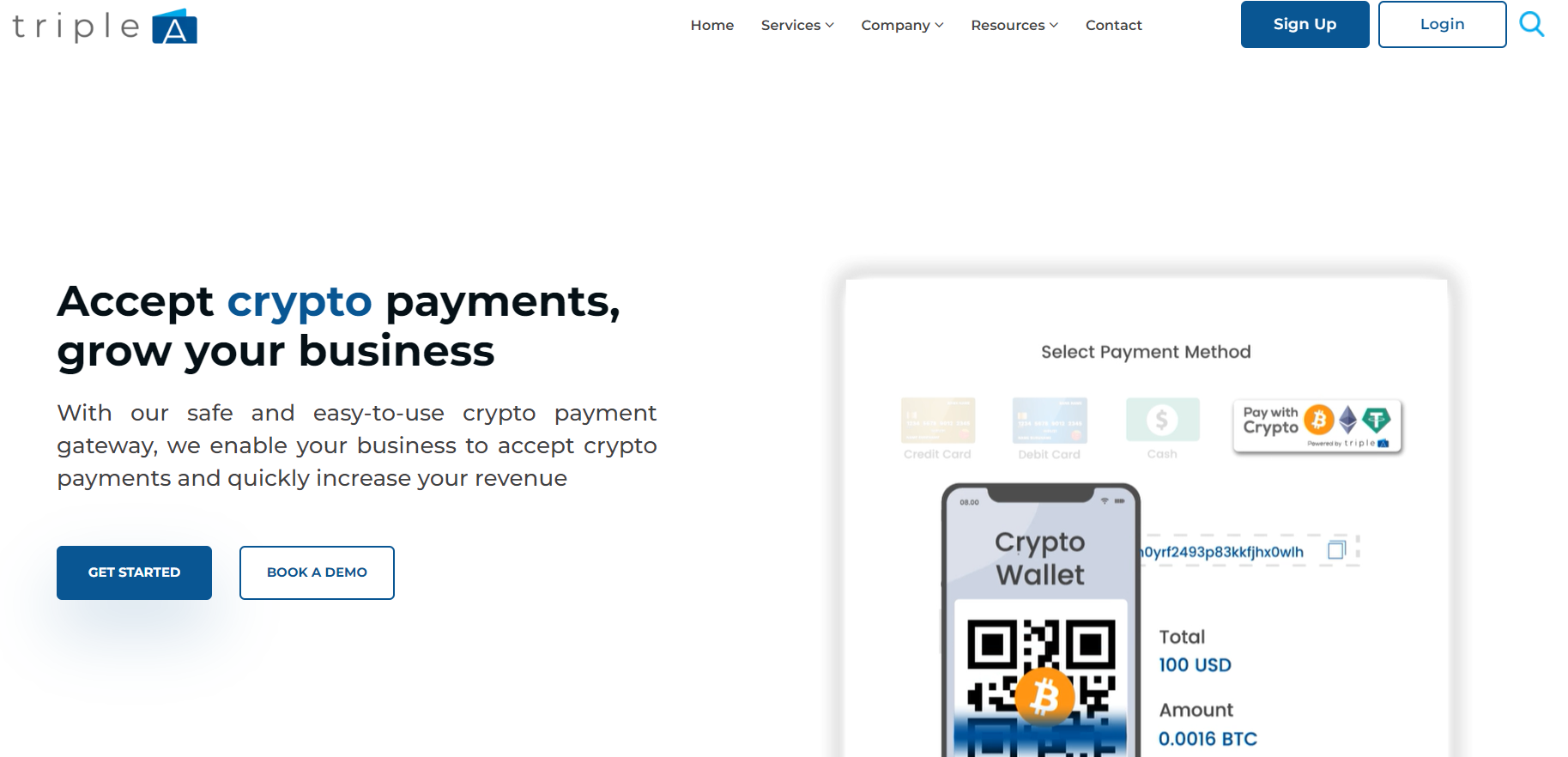 In 2018, serial entrepreneur Eric Barbier created TripleA in Singapore, one of the world's newest bitcoin processors. TripleA provides a developer-focused solution to accepting bitcoin payments with a lot of flexibility. This includes receiving payments for e-commerce, point-of-sale, invoicing, and remittance.
In terms of e-commerce, TripleA is compatible with Shopify, WooCommerce, and OpenCart. It also provides an easy-to-use merchant dashboard that lets you manage refunds, track orders and payments, and reconcile accounts all in one location.
8. Blockonomics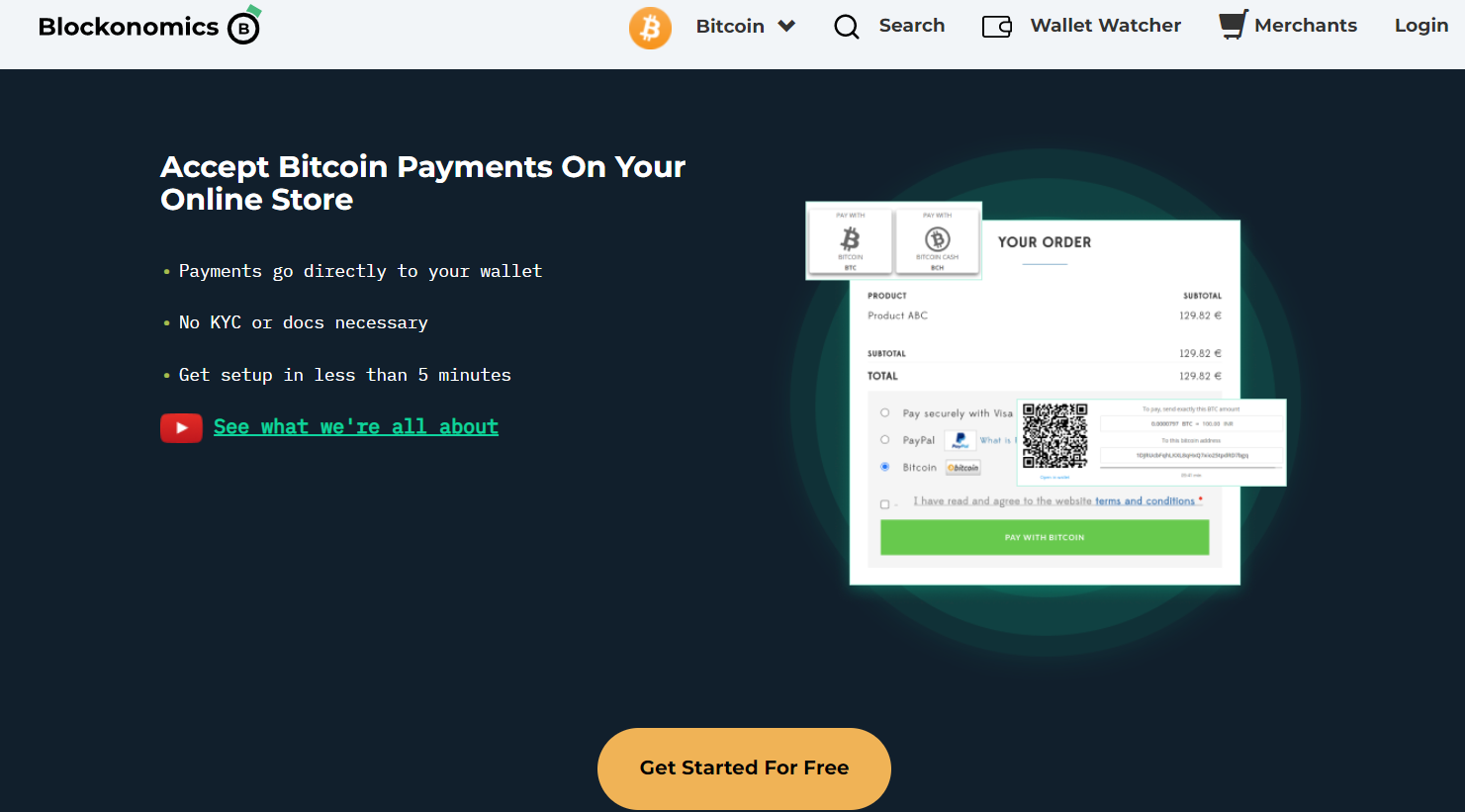 Blockonomics focuses solely on Bitcoin and Bitcoin Cash. You are given the ability to open a non-custodial merchant account with a relatively straightforward cryptocurrency payment gateway. The best feature is their free API for the first 20 payments.
There is a 1% processing fee and no hidden charges. It works perfectly with platforms like Shopify, WordPress, Wix, and many others.
9. PayPal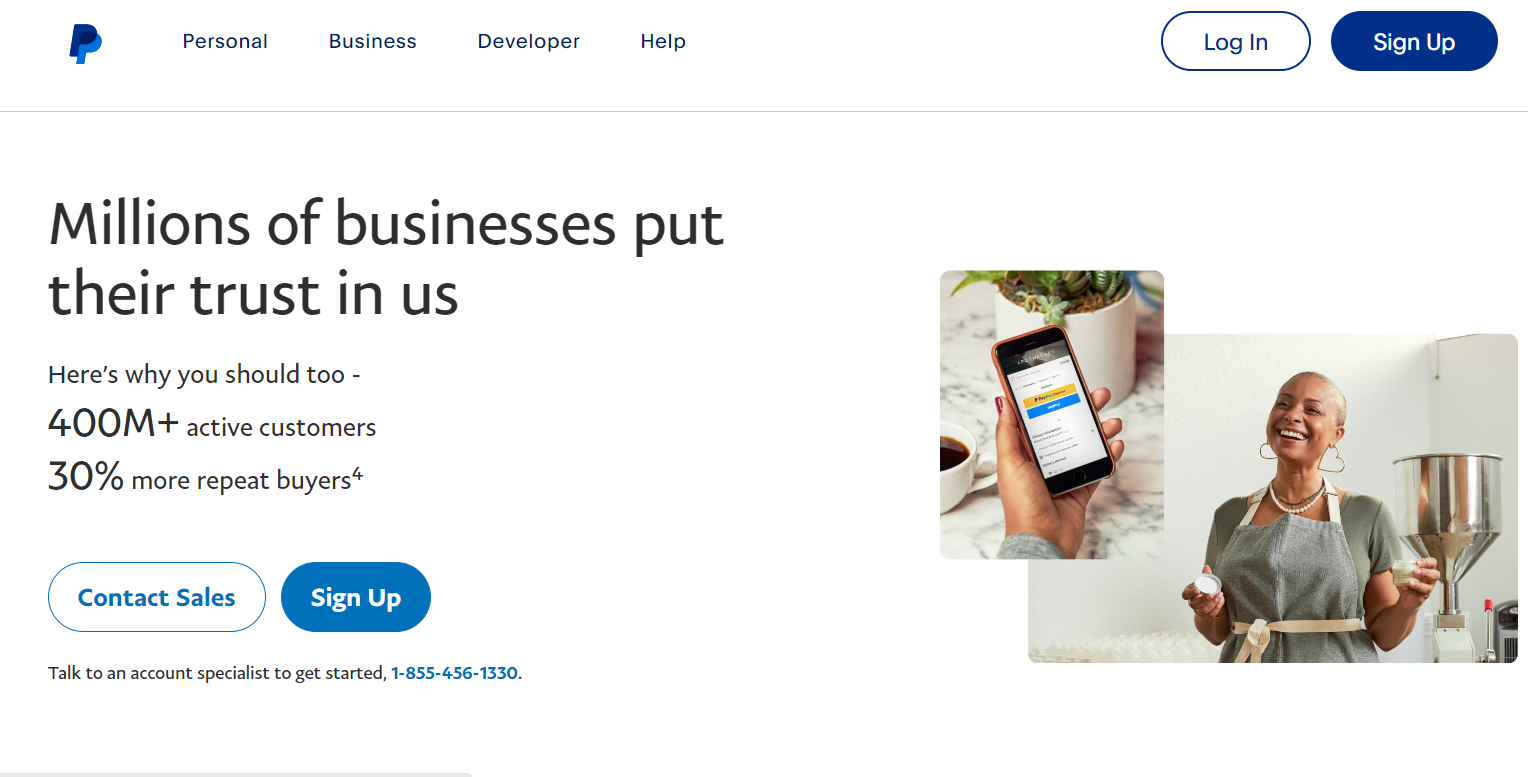 PayPal accepts bitcoin payments from customers. However, it differs from other services in that merchants cannot select this option and cannot request to be paid in cryptocurrency.
Instead, a PayPal user with bitcoin in their account can use it to make a payment. PayPal then credits the funds in U.S. dollars to the merchant's account.
Despite the fact that this option does not expose the merchant to crypto transactions directly, you can provide crypto as a payment option to some clients.
10. Manually
Although it may sound a little technical, the technique depends on the particular wallet and is normally not that challenging.
However, you would have to sacrifice the aesthetics of accepting cryptocurrency because there will be addresses for each cryptocurrency you want to accept.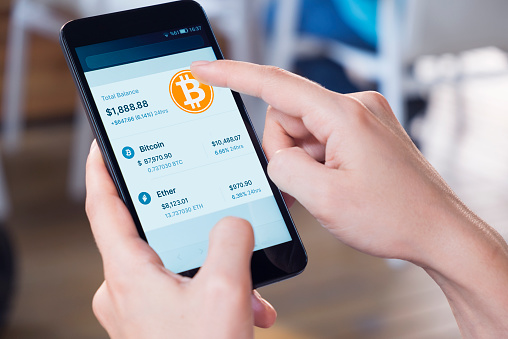 Additionally, you need to track who is paying what and compare it to the actual clients. Sign up for any wallet and post the address on your website. Some of the best non-custodial wallets include: the Defi wallet from Crypto.Com, Bitpay wallet, and Bitcoin Wallet
A safe wallet generally stores your private keys solely on your device. Hardware crypto wallets are another option if you want the highest level of security. The private keys never leave the device, and they stay offline.
Things to Consider Before Accepting Crypto Payments
1. Costs
The regular transaction charge for processing cryptocurrency payments is around 1%, which is far less expensive than the typical credit card processing fee (3%) and even some ACH direct deposit rates (1%–1.5%).
While some companies charge network fees in addition to the standard 1%, some provide significantly cheaper transaction fees.
Fees for withdrawals and currency conversion are examples of potential extra costs. Accepting cryptocurrency payments is undoubtedly much less expensive than accepting credit cards.
2. Crypto Tax
All cryptocurrencies are considered capital assets by the International Revenue Services (IRS) and are subject to capital gains tax. The IRS considers a purchase made with bitcoin by a small business to be a cryptocurrency sale. Capital gains typically reported on a tax return. A free tax return can be filed in most situations.
3. Crypto Regulation
Since cryptocurrencies are mainly decentralized, neither a bank nor a government entity controls them.
The assets of your companies are not completely safe under limited regulation. Insurance is necessary to protect you against problems like cybercrime losses and data security breaches.
4. Audience
According to a study, 74% of cryptocurrency owners are between the ages of 25 and 44, while 19% are between 44 and 55. If you cater to the younger, tech-savvy market, having the capacity to accept cryptocurrency payments may be a critical requirement for your company.
However, older generations that are at least 60 years old are catching up, so if you cater to this market, you still need to adapt.
5. Conversions
This can significantly impact your business because rapid price fluctuations imply that the value of your cryptocurrency may increase or decrease quickly. Will you keep the cryptocurrency you receive indefinitely?
Will you immediately convert to cash? Will you convert it on a predetermined schedule? Once you have a strategy in place, confirm that your preferred cryptocurrency payments service can execute it.
Pros and Cons of Accepting Crypto Payments
Pros
Lower transaction fees
Merchant protection to ensure no risks of chargebacks
Increased sales with more payment methods
Easy international selling and currency conversion
If you decide to accept bitcoin payments and hold them, your value could potentially increase.
Cons
Volatility and unpredictable exchange rate
Technical barriers- Might require additional tech help
Prone to cybersecurity threats
Limited regulation and regulatory uncertainty.
Some payments may be subject to capital gains tax.
Crypto Vs. Credit Cards
Credit cards differ significantly from cryptocurrency on a basic level. They do, however, have similarities that matter to businesses. They both offer a means for clients to make electronic payments.
1. Payments
Crypto payments- Not all payments must go through a payment tool.
Credit Card payments- A payment processor is required for all transactions.
2. Safety and Security
Crypto- Little to no accountability for fraud or compliance.
Credit Card- Accountable for both compliance and fraud.
3. Fees
Crypto- If done with the client directly, 0%. 1%, or less via a payment system.
Credit Card- Although it varies depending on the processor, the standard flat rate is 2.9% plus 30 cents for each transaction.
4. Customers Issues Resolutions
Crypto- You won't have to deal with protections or chargebacks, but you'll probably need to be upfront about your policies.
Credit Card- Card networks often make decisions and usually favor the customer.
5. Convenience
Crypto- While transactions move rather quickly, some obstacles can occur.
Credit Card- The how-to is generally understood, and transactions happen quickly, but the underlying processes can be more challenging.
6. Settlement
Crypto- Fast and adaptable, but also potentially volatile.
Credit Card- Slower, but more steady.
Conclusion
If the market permits, your website can benefit from the increasing popularity of bitcoin and other cryptocurrency payments. You can now accept them on your website without taking an unnecessary risk.
Accepting cryptocurrency payments and converting them to your preferred currency is simple with the platforms discussed above. This means you can continue providing your consumers with a valuable service while not worrying too much about volatility.