If you have a Google Slides deck, it is possible to add audio to your slides. You can use an external microphone and then just export the audio from that source as WAV or MP3 files on your computer and upload them onto a slide in the same folder.
The "how to upload audio to google drive" is a guide on how to add audio to Google Slides.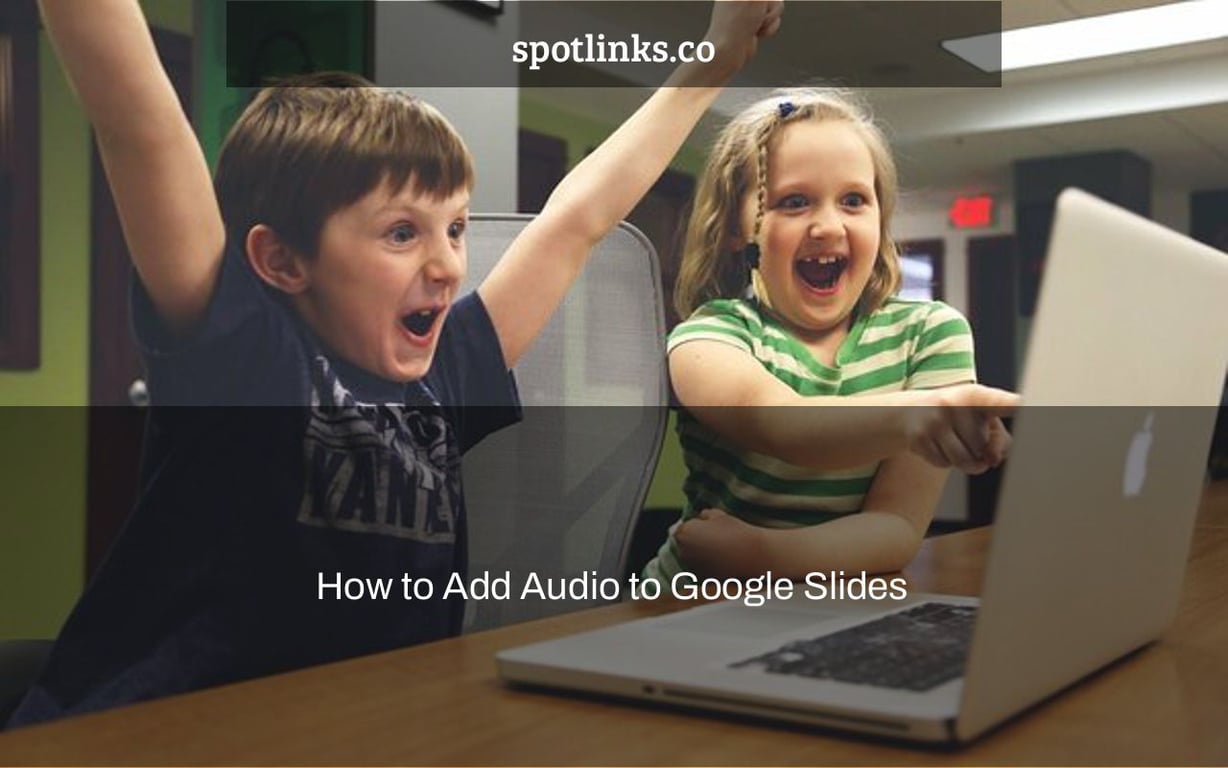 We've all heard of Google Slides, which is used to create presentations of many types, whether for a corporate pitch, a family gathering, or even weddings.
It is critical to include audio in your Google Slides presentation in order to keep the audience engaged and interested.
You also don't have to utilize music with lyrics since gentle background music may perform wonders and give your presentation a new dimension.
We'll teach you How to Use Google Slides with Audio in this post.
Using Google Slides to Add Audio
It is worth noting that Using Google Slides to Add Audio was previously not possible as Google decided the feature was not important for some reason.
However, after consumer input, the firm has enabled this capability, and we can now claim that you can now add audio to your Google Slides.
There is one remaining limitation: you cannot directly upload audio from your local PC to Google Slides.
Because you can only link a Google Drive audio file to Google Slides, we'll need to upload the audio to Google Drive first and then attach it to Google Slides.
We've seen folks use.wav files as audio recordings in their presentations, and we can confirm that the file format, along with.mp3, is supported.
How to Use Google Slides with Audio
First and foremost, if our audio recording or audio file has not previously been uploaded to Google Drive, we must do so.
Follow these steps to upload your file to Google Drive:
Go to drive.google.com and click the "+New" button, then choose File Upload from the drop-down menu.
Then, from your computer, choose the audio file you wish to upload and upload it to Google Drive.
That is all there is to it. The first stage in the process of uploading audio to Google Drive has been accomplished.
We now need to import the audio file from Google Drive into our Google Slides presentation.
To add audio to Google Slides, follow these steps:
Open your presentation at slides.google.com. Select Audio from the list when you click on Insert.
You'll now see a box appear where you may add audio to your presentation.
Choose your uploaded audio file from the My Drive menu and add it to the presentation by clicking the Select button underneath it.
Once the audio has been uploaded, a speaker icon will appear, which you may resize and move around. Underneath the symbol, there will be a play/pause button.
Controlling the audio playing of the audio you've contributed is also available. To do so, click the music icon, which will bring up a "Format Options" box on the right side.
You may extend the Audio Playback section from here to specify whether you want the audio to start playing "on click" or "automatically."
There will be a volume slider underneath these selections that allows you to change the level of audio while it is being played.
You may alter it to your liking and then preview the presentation to see how it looks after you've made the adjustments.
When presenting, you may also choose to hide the icon, which is what most people prefer.
Check the Loop Audio box if you want your audio to keep looping.
You can also use the Stop on slide change option to stop audio from playing when the slide changes.
Conclusion
In this article, we have mentioned all there is to know about How to Use Google Slides with Audio as well as what are the options that you have after adding audio to your presentation.
If you run into any difficulties when adding audio to your Google Slides, please leave a comment below and we will do our best to assist you.
The "free audio for google slides" is a tutorial on how to add an audio file to your Google Slides presentation.
Frequently Asked Questions
Why cant I insert audio in Google Slides?
A: The audio file you selected cannot be found.
How do you add audio to a slide?
A: To add audio to a slide, you need to create an image that is 600×600 pixels in size. The final file can be saved as PNG or JPG format by using the Save for Web option.
Related Tags
how to add audio to google slides on iphone
how to add audio to google slides on chromebook
how to add audio to google slides from youtube
how to add audio to google slides on mac
how to add music to google slides 2021