MacBooks are generally pretty reliable, but they do tend to have their fair share of problems. Here's a list of solutions for some common MacBook issues.
The "macbook pro won't turn on but is charging" is a problem that has been present for a while. There are 7 fixes to fix the issue.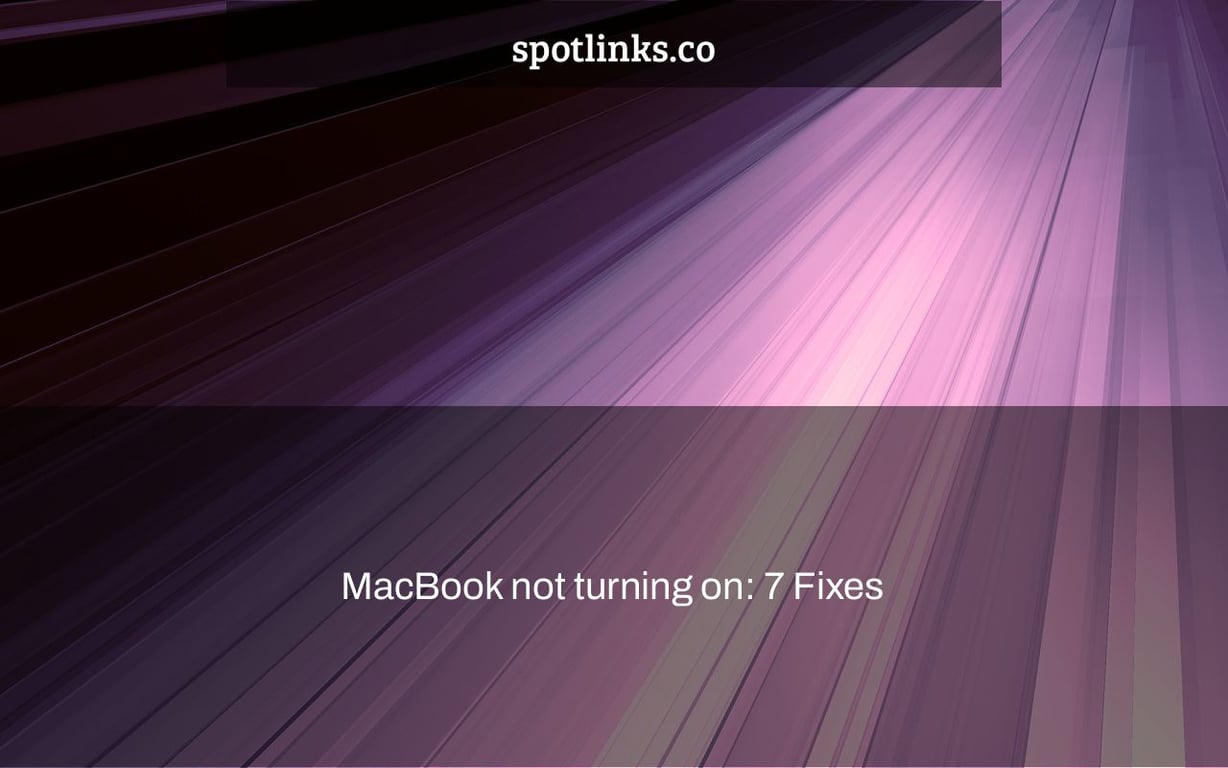 Apple products are, without a doubt, the most dependable. These gadgets, like any other equipment, might, however, fail at times.
It's possible that your Mac won't switch on correctly, that macOS will crash, or that it will just cease responding to the power button. In such instances, here is what you should do to resolve the issue without the assistance of a professional.
In this post, we'll walk you through seven remedies that may be able to help you restore a broken MacBook.
---
If you attempted to switch on your MacBook and it made a noise. If, however, the screen is blank or black, the brightness level should be checked first.
There's a potential the brightness level was adjusted to zero by mistake. On the top row of the keyboard, there are two keys with a sun symbol. These keys may be used to raise or decrease the brightness level.
Also see: Mdnsresponder: What Is It? What gives that it's operating on my Mac?
---
The battery level on your MacBook is another issue to look at. Check to see whether the laptop's charger is connected to a power source. If your mac charger isn't functioning, try a new charger and device to make sure it's not damaged or the power socket isn't broken.
Wait a few minutes after plugging in the charger if your MacBook's battery is fully dead. It may take some time to reset after connecting it into a power source.
---
If your Macbook is stuck in one position and won't react to the power button, you may use a power cycle to totally reset the machine.
Press and hold the power button for 10 seconds, or until you hear a chime. If your laptop was on but has been frozen, this move will forcefully turn off the power and restart it.
If you're using an older Mac with a detachable battery, turn it off, disconnect the power supply, remove the battery, and wait ten seconds before reinstalling it.
Also see: How to Rotate a Macbook's Screen
---
If your Mac is restarting but macOS isn't loading properly, there might be a software issue. If your Macbook disks are corrupted, you may use recovery mode to fix them.
To enter recovery mode, press and hold the power button on your Mac. When you hear the chime sound, instantly hit the Command + R keys. This will put your laptop into recovery mode and reboot it.
To repair and wipe the disk, enter the recovery mode window and choose the Disk Utility option. After that, restart your Mac, and everything should work normally again.
---
You may reinstall the Mac operating system if the disk utility option does not work.
On the recovery mode window, choose Reinstall macOS. This will reinstall the operating system by downloading the most recent macOS installation files. Time Machine Backup allows you to accomplish the same thing. Reinstalling the macOS option will update it with fresh software if your macOS is broken and is the cause of it malfunctioning.
Also see: Where can I get the model number on a MacBook?
---
If your Macbook still won't turn on after you've removed all of the accessories, try restarting it.
USB drives, printers, and other accessories and devices should be disconnected from the Mac. Then try hitting the power button for 10 seconds to restart your computer.
---
System Management Controller is the abbreviation for System Management Controller. It controls operations such as the power button, battery, and display, among others. Resetting the SMC may be the final resort if your Mac still won't power on after attempting all of the preceding steps.
Remove the mac's charger and other attachments.
For 10 seconds, press and hold the Shift + Control + Option and Power buttons.
Disconnect the charger by releasing all of the keys.
To restart your laptop, press the Power button.
If your Macbook still won't switch on, you should take it to an Apple shop and have it looked at by a professional technician.
Also see: How can I allow cookies on my MacBook?
She attempts to churn out coherent sentences on paper when she isn't organising sporting events. Tennis, photography, and Hindi and Urdu poetry are some of his passions.
Monika may be reached through email at [email protected].
Watch This Video-
The "macbook air not turning on" is a problem that has been present for a while. Apple has released 7 fixes to fix the issue.
Frequently Asked Questions
How do you fix your MacBook when its not turning on?
A: If the MacBook is not turning on because its completely dead, there isnt a solution for your problem. Try looking into replacing the battery and if that doesnt work then contact Apple Support (https://support.apple.com/).
How do I force a Mac to start?
A: The most common way to force a Mac is by holding down the power button.
How do you start a dead MacBook Pro?
Related Tags
macbook pro won't turn on or charge 2020
macbook pro not turning on
macbook pro won't turn on black screen
imac not turning on
macbook air not turning on but charging