AMD software not opening is not a new issue, especially when managing your computer graphics. However, unlike gamers and computer techs, we acknowledge there are those of us who are still affected by this issue but wonder where to start. At the very basic level, the AMD Radeon settings are responsible for handling the display quality of your computer. Therefore, being at par with your computer, let's understand why the AMD Radeon software won't open and how to fix it.
We have put together this easy guide for troubleshooting your graphics card settings in light of all computer users and owners. Ideally, you can fix AMD Radeon settings by yourself, but if you find the process too intricate, you can seek the help of a professional. As promised earlier, let's start by understanding why the Radeon settings won't open.
Why AMD Radeon Settings Won't Open
Faulty AMD graphics card drivers. Ideally, any function on your computer won't run well if the supporting software is broken, defective, or corrupted. Similarly, the Radeon settings won't open if the AMD graphics driver pack keeps crashing. Faults in the AMD graphics drivers may occur due to incorrect installation or updates.
Outdated drivers. Installing an old AMD graphics card driver pack might cause a mismatch with the existing graphics settings. Therefore, you will enjoy and easily manage your display settings only when the graphics drivers are up to date. For instance, Age of Mythology won't start in Windows 10 if you don't apply the latest graphics drivers.
Mismatched settings: This will occur when the AMD Radeon graphics and the graphic card driver pack do not match. This issue is close to working with outdated drivers, but in this case, you might also be faced with having the wrong drivers downloads. Ultimately, the Radeon software won't open due to a crash.
Outdated operating system. If your PC's AMD Radeon settings version is higher than the running OS version, there's definitely bound to be problems. As such, this conflict will cause your AMD graphics card driver pack to malfunction, including not opening. Therefore, we can't overemphasize the importance of your operating system being at par with your latest graphics driver version for easy management of AMD settings.
Knowing the possible causes of the issue at hand will help implement objective solutions. Each of the possibilities above has its unique way (s) of being solved. Resolving this issue renders your computer efficient for gaming and heavy torrenting with the best VPN. So, without much ado, let's get to the different solutions.
Solution 1: Quick Fixes
Normally, a simple restart or reboot solves most of the running issues of a computer. For example, you can get your Radeon software to open again among the many solutions. Therefore, before we get to more technical solutions, we recommend restarting your computer.
Along with the restart solution, you can check if there were any recently installed hardware or software that may cause the AMD Radeon settings not to open. Then, try uninstalling the new software and proceed to open AMD Radeon Settings. Nonetheless, if neither of these quick fixes works, you can proceed to other solutions in this guide.
Solution 2: Updating your Operating System or Windows System
An outdated Windows system might cause your AMD Radeon settings not to open. Subsequently, you can proceed to check if your operating system is up to date. Fortunately, your computer makes this process easy by using a few clicks to check and install updates. Here's how to do this:
First, open Settings, click on Update and Security and open Windows Update.
Next, click on the Check for Updates button.
If any updates are available, proceed to download and install them.
Not to worry, a lack of updates means your computer is running on the latest Windows version. After the Windows update is complete, restart your PC and try to open AMD Radeon settings. If the problem persists, you will proceed to check the next solution. On the brighter side, your Windows is up to date for improved running and security.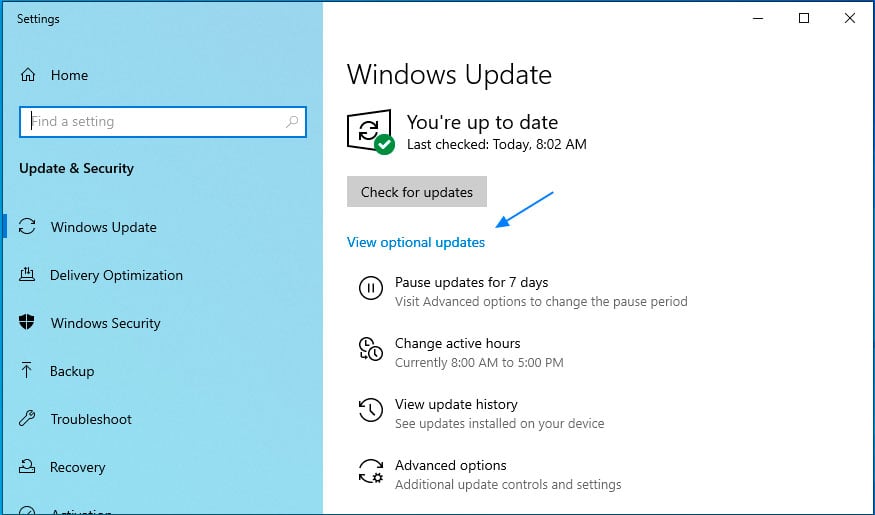 Image Credit: bleepingcomputer.com
Solution 3: Update AMD Driver
Alternatively, you can fix AMD Radeon software issues by updating the graphics card drivers. Having dealt with the OS updates in the previous solution, it's now time to ensure the AMD Radeon settings are at par with the latest Windows version. This solution is particularly helpful when AMD software won't open after a Windows update.
Failure to update your AMD software leads to the corruption and bugging of your graphics drivers, thus the possible failure to open. Therefore, installing the latest AMD Radeon setting version will mostly overwrite faulty graphics card drivers, solving the incompatibility issues. Subsequently, here is the process of checking and updating your AMD drivers:
Press the Windows button and search for Device Manager
Under Display Adapters, look for the AMD Radeon app
Then right-click on the AMD Radeon version on your computer and choose Update Driver Software.
Choose Search automatically for updated driver software to make the updating easier, but you opt for Browse my computer for driver software if you already have a downloaded update. Then, complete the installation wizard prompts and complete the installation.
Also, you can download the installer from AMD's website. Consequently, the installer will automatically help you obtain the latest AMD driver pack. Eventually, complete the installation wizard prompts and complete the installation.
Once the updating is complete, restart your PC and try to open AMD Radeon settings. This solution seeks to repair faulty video card drivers for proper AMD Radeon software running.
Alternately, you can skip these manual update processes by having a utility like Drivereasy. Such will help you stay up to date on every front relating to updating all your PC's drivers.
Solution 4: Reverting to the Previous Version Graphics Driver
In some instances, the AMD Radeon software won't open after updating the video card drivers. Not to worry, you can fix AMD Radeon settings by rolling back to the old graphics drivers. Here is the process of returning to the previous version:
Press Windows button + R to access the run dialog box
In the run dialog box, type devmgmt.msc and press enter to open the Device Manager tab. Alternatively, search for Device Manager in the Windows search bar.
Proceed to access the Display Adapters sub-menu under Device Manager. The display drivers on the list will probably read something AMD Radeon … (depending on the installed version).
Then proceed to Uninstall Device.
Confirm the uninstallation prompts and wait for the process to complete.
Proceed to check for available drivers on the AMD official website. Then choose the drivers you are looking for and download them.
Next, follow the usual installation prompts to complete the process.
After completion, reboot your computer and check if the AMD Radeon Settings works.
Solution 5: Perform a Clean AMD Video Card Driver Installation
Progressively, we are moving towards more complex solutions, but that is not to say you can implement them. Accordingly, we will provide every step and detail to ensure you indeed pull a clean installation. Notably, this solution is closely related to the previous solution of rolling back, but under this one, you can install the latest versions. To do this, follow the steps below:
Start by downloading and saving the desired AMD driver from the AMD official website.
Then proceed to download and save the Display Driver Uninstaller.
Additionally, ensure your antivirus or any other security system is disabled.
Proceed to delete all previous drivers' content from the C:/AMD folder.
Then access the Control Panel > Uninstall a program and uninstall intel GPU driver or AMD Radeon drivers.
Use Safe Mode booting to run DDU, allowing it to restart your system. Then, install your new drivers > Restart your computer.
Now check if the AMD Radeon Graphics Driver settings open for your adjustments.
Despite the complexity of this solution, it might also not resolve the issue of the AMD Radeon settings, not opening.
Solution 6: Pull Off a Clean Boot
In some cases, your AMD Radeon settings not opening might be due to a setup issue that is causing programs and processes to conflict. For example, this issue might cause the AMD graphics driver to stop occasionally. In resolving this, you can opt for a clean boot to disable any background processes that might hinder AMD Radeon settings' utility. According, here are the steps to fix AMD Radeon Software won't open issue using a clean boot:
Engage Win+R and search for msconfig in the Run dialog box.
Press okay and access the System Configuration dialog box to access Services.
Check the box "Hide all Microsoft Services" to disable all services listed on-screen.
Ensure you uncheck every listing apart from all the drivers relating to the mounted hardware, such as AMD (GPU), Intel (processor), Nvidia and others.
Finish by tapping OK
Next, open (Ctrl+Shift+Esc) and expand task manager. Go to the tab Startup
Ensure you disable some of the listed apps that you might be conflicting with the AMD Radeon software and AMD-related processes. Please note, that we only recommend disabling apps that you know about, or you have installed and not system apps.
When done, restart your PC and check if the AMD settings now work.
Solution 7: Change the AMD Registry Setting
Lastly, here's the most complex solution for getting your AMD software to open. Subsequently, take on this solution as the last resort when the rest fail. Ideally, this process will help eliminate the incompatibility between the AMD Radeon installation and driver versions.
PLEASE NOTE: Any inaccurate steps or the slightest error might damage your system, and it won't turn on. Follow the steps below carefully:
Open the Run window (Win+R)
Type "regedit" in the dialog box > press enter
Proceed to the next registry, "HKEY_LOCAL_MACHINESOFTWAREAMDCN" on the left side.
Click on it > find DriverVersion > Right-click on it >Choose Edit from the context menu.
Under Edit String, modify the Value Data to 0 (zero) and press OK. Additionally, check any security dialog boxes that may pop along this process.
Now open Task Manager (Ctrl+Shift+Esc) and stop all AMD-related processes.
End Task for each target background process.
When done, restart your AMD Radeon settings, and hopefully, they should open.
Image Credit: itechtics.com
Frequently Asked Question Radeon Software Not Opening
1. Is AMD Radeon safe?
A Radeon GPU and software are safe for use on your computer. In fact, AMD Radeon is immune to threats and is highly commendable for its industry-leading graphics. Of course, you might encounter a few teething problems, like the software not opening, but it remains safe.
Image Credit: gizmocrunch.com